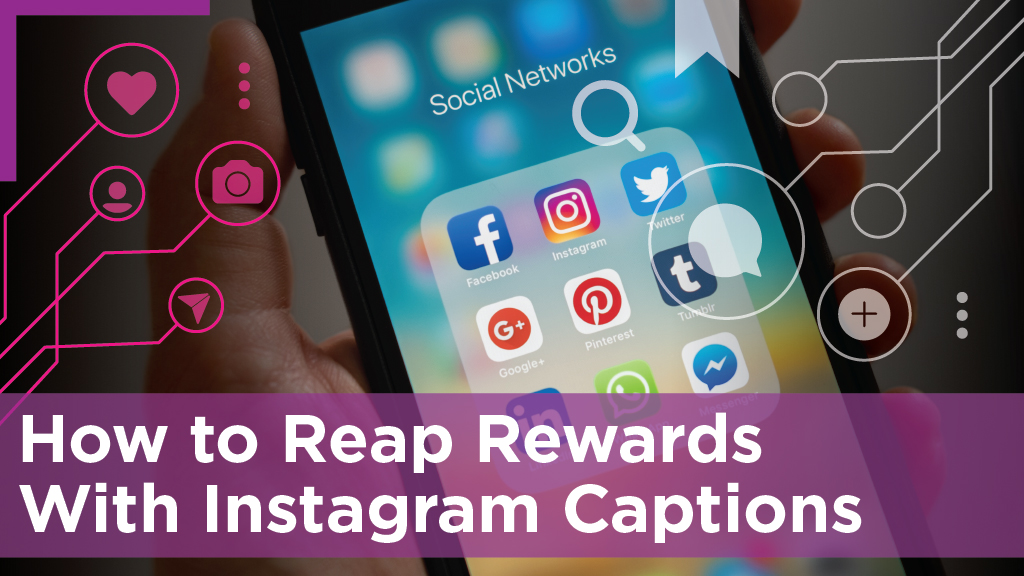 How to reap rewards with Instagram captions. One of the most crucial tools you have for boosting audience engagement on Instagram is the caption. Your followers may be drawn to your images and videos, but it's the caption that persuades them to share, like, and comment on your post. Your Instagram captions can also boost sales, expand your social media reach, and help you gain more Instagram followers.
You might be wondering, how can you be certain that you're utilizing the proper captions to foster accomplishment? Here are the tools you need to learn to reap rewards with your Instagram captions.
1. Grab their attention right away
Like most social media platforms, Instagram is all about quick exchanges of information.
On a regular basis, your customers scroll through dozens of images. Since Instagram condenses your description to just three or four lines, you must grab their attention quickly if you want them to stay on your page.
On the news stream, you have even less of a chance of grabbing your reader's attention because only the first phrase of your caption will be visible. As such, your opening sentence should be written to instantly capture the reader's attention by doing the following:
• Pose a question: your customer will want to know if you have addressed it.
• Include visuals: make your brand's personality pop out by using emojis.
•Make a statement: say something that you know will catch the attention of your audience.
• Introduce your call to action first: as soon as a customer views your material, what you want them to do should be clear. Keep in mind that concise lines will attract your audience's attention more quickly than most wordy Instagram captions. Keep it straightforward and to the point to get your message across.
2. Be a call-to-action master
Your call-to-action (CTA) is the most crucial component of your Instagram caption. It's how you encourage your followers to interact with your page by leaving a comment on your post or clicking the link in your bio.
However, it is important to refrain from including too many CTAs in a single post. Consequently, having too many CTAs can take away from the caption's clear purpose. Instead, you should precisely highlight what you want your customer to do for each of your Instagram posts. Below are some examples of the intentions of Instagram posts. Do you want the reader to:
Visit your website?
Click the link in your bio?
Invite their friends to a post?
Shop for a sale?
Subscribe to your newsletter?
Participate in a giveaway or contest?
Save your post for later?
Find the link from your stories?
Send you a DM?
Chat in the comments?
Leave an (insert emoji) if they agree?
Tag someone?
Try a few different possibilities because it might be challenging to predict which CTA phrases will result in the greatest response from your audience. You can choose which call-to-action phrases are best to employ in the future by evaluating your call-to-action phrases' by their levels of engagement.
3. Tell stories
Spice up your Instagram captions with some storytelling.
A compelling narrative will strengthen your customers' emotional connection to your brand and help them understand the advantages of your product or service.
When incorporating a compelling narrative into your captions, you should:
Show emotion: grab the reader's attention with well-written descriptive information that is intended to help them envision or better understand the products you are selling.
Use appropriate language: find, use, and maintain the voice tone that works with your audience. Your stories will be more relatable if you use the same language as your intended audience.
Try being authentic: make your brand look more genuine by discussing your personal experiences. By sharing your personal experiences, you can show your audience that you are more than just a nameless organization.
4. Use sensory language
Another way to reap the rewards of Instagram captions is to find ways to connect emotionally with your followers, such as using sensory language. An Instagram account must have the appearance and feel of a personal journal, with authentic, moving, and engaging content, in order to successfully appeal to its followers.
Thus, you should write Instagram captions that will enable users to thoroughly immerse themselves in the experience you're sharing, whether you're a large corporation or a little business. Using sensory words will allow your content to be experienced through sight, sound, smell, taste, and touch.
The types of senses you should consider and appeal to, include:
Visual: concerned with sight, colour, form, and appearance
Tactile: concerned with touch and abstract conceptions
Smell: concerned with smells and how they affect our emotions
Taste: concerned with the things we can taste and experience
Motion: concerned with movements and how readers experience words
Auditory: concerned with hearing, noises, and even music
5. Utilize hashtags
Lastly, without the appropriate hashtags, Instagram captions are worthless. Hashtags on Instagram, as on most social media platforms, make your content searchable and guarantee that the relevant customers can find you. The simple act of including hashtags in your captions can greatly increase your account reach.
You can add a lot of important Instagram hashtags at the end of your captions, but it's also worthwhile to think about how you can weave them in naturally with @mentions of relevant people.
Keep in mind that the finest Instagram captions typically include a variety of hashtags. You must choose trending ones that are attractive to your intended audience, but it is also important to consider specialized and more focused hashtags.
By creating your own custom hashtags, you may even entice your followers to participate and post user-generated content in your Instagram comments. A strong brand hashtag will promote your business, especially if you utilize it in conjunction with a contest or giveaway. For instance, you could offer a prize to everyone who shares a photo of themselves using your product with the hashtag associated with your business.
Keep an eye on what's popular in your market, as well as the hashtags your competitors and brand influencers are using. This can help you if you need more ideas for hashtags to employ.
Make changes to your Instagram captions
It's simple to ignore captions on a visual social media platform like Instagram. However, if you're not maximizing your Instagram captions, you can be passing up important opportunities to engage, connect with, and convert clients. Instagram captions can be an essential part of growing and maintaining a business.