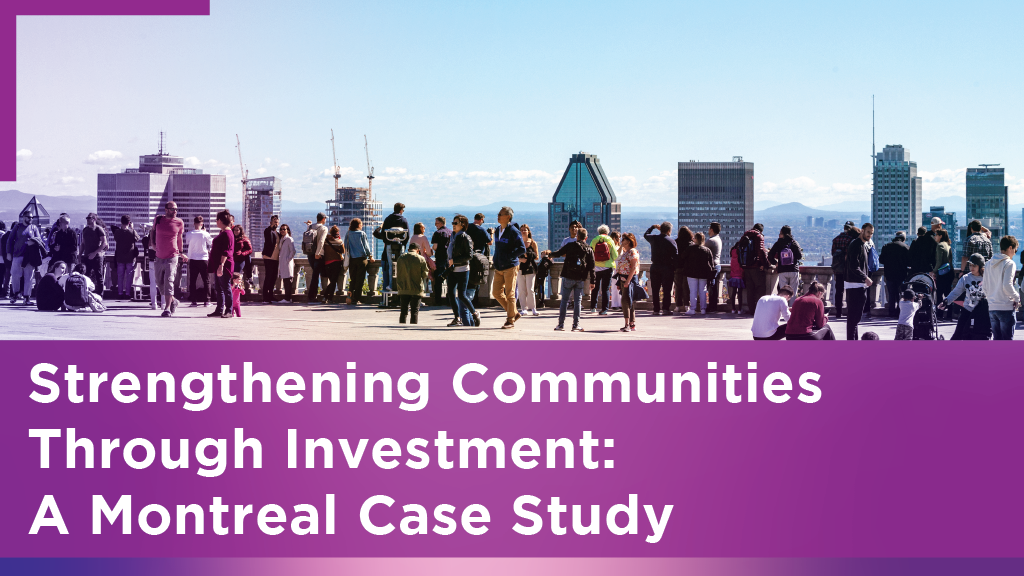 Anchored in the fabric of community, Federation CJA acts as the cornerstone, fortifying the ties that bind. It goes beyond mere financial contributions; it is a steadfast commitment to safeguarding each investment as a resounding testament to standing up for the community.
Building a thriving, sustainable future is not just about global initiatives and sweeping policy changes. The most meaningful impacts often originate from the grassroots level in local communities. This blog post explores the benefits of investing in local communities using Montreal's vibrant Jewish community as a sterling example. We will underscore how such investments are not only morally compelling but can also yield substantial commercial returns.
Why Investing Locally Matters
Investing in local communities is more than just a benevolent act; it is a long-term strategy that strengthens social fabric and promotes economic vitality. When we invest in local businesses, education, housing, and infrastructure, we empower individuals to participate actively in their communities, fostering social cohesion, encouraging self-reliance, and generating economic prosperity. This investment extends beyond the realm of economics, nurturing a sense of belonging and collective identity that enriches the culture and vibrancy of our neighborhoods. Federation CJA's commitment to community-building resonates deeply here, as the organization tirelessly works to create opportunities that enable individuals to thrive within their local contexts.
Montreal's Jewish Community: A Testament to Local Investment
Montreal's Jewish community offers a powerful example of the transformative potential of local investment. This diverse community, one of the oldest and most significant Jewish populations in Canada, has a rich history marked by a robust tradition of communal support and investment.
With the support of Federation CJA, the community has invested heavily in institutions that preserve and promote Jewish heritage and identity. Synagogues, community centers, and schools serve not just as hubs of religious observance but as vibrant cultural centers that cultivate community spirit and foster the transmission of traditions across generations.
One standout example is the Segal Centre for Performing Arts. This Jewish cultural institution offers a wide variety of artistic programs, fostering creativity and serving as a gathering place for people of all backgrounds. Its success is a testament to the power of investing in cultural institutions that elevate community identity and stimulate local economies.
The Commercial Upsides of Community Investment
Contrary to some misconceptions, investing in local communities does not mean sacrificing profitability. Instead, such investment often stimulates economic growth, creating a virtuous cycle of prosperity. When businesses invest in the communities they serve, they earn customer loyalty, encourage local spending, and contribute to the area's economic resilience. This approach aligns with Federation CJA's multifaceted strategy of promoting community resilience by supporting local businesses and amplifying their impact and reach.
Local businesses in Montreal's Jewish community illustrate this phenomenon. Bagel shops like St-Viateur and Fairmount, beloved institutions of Montreal's culinary scene, have thrived by maintaining deep roots in the local community. Their success has spurred local employment and tourism, contributing significantly to the local economy.
Moreover, the Jewish General Hospital, a cornerstone of Montreal's healthcare system, exemplifies how investment in local infrastructure can reap commercial benefits. This institution, founded by and for the Jewish community, now serves a broad demographic, earning revenue for its services while fulfilling a critical community role.
The Moral Imperative
Investing in local communities carries a potent moral resonance, too. It reaffirms our shared responsibility to uplift those around us and cultivate spaces where all members can thrive. Such investments echo the Jewish concept of 'tikkun olam' or 'repairing the world,' which calls for actions that improve society.
This ethos is evident in initiatives like the Jewish Community Foundation of Montreal, which receives vital support from Federation CJA, supporting various causes, including education, healthcare, and social services. By investing in these areas, the foundation has been able to address inequalities and create opportunities, making Montreal a better place for all residents.
Conclusion
As demonstrated by Montreal's Jewish community, investing in local communities is a powerful tool for cultivating social cohesion, stimulating economic growth, and reinforcing moral values. Whether supporting a local business, contributing to community infrastructure, or donating to a community fund, each act of investment can make a significant difference.
So, as we move forward, let us remember the Montreal Jewish community's story. Above all, it's about how building a brighter future begins at home, in our local communities. It's a story of investment—of standing up for the community. Your next investment could be the catalyst that transforms your community and, by extension, the world.