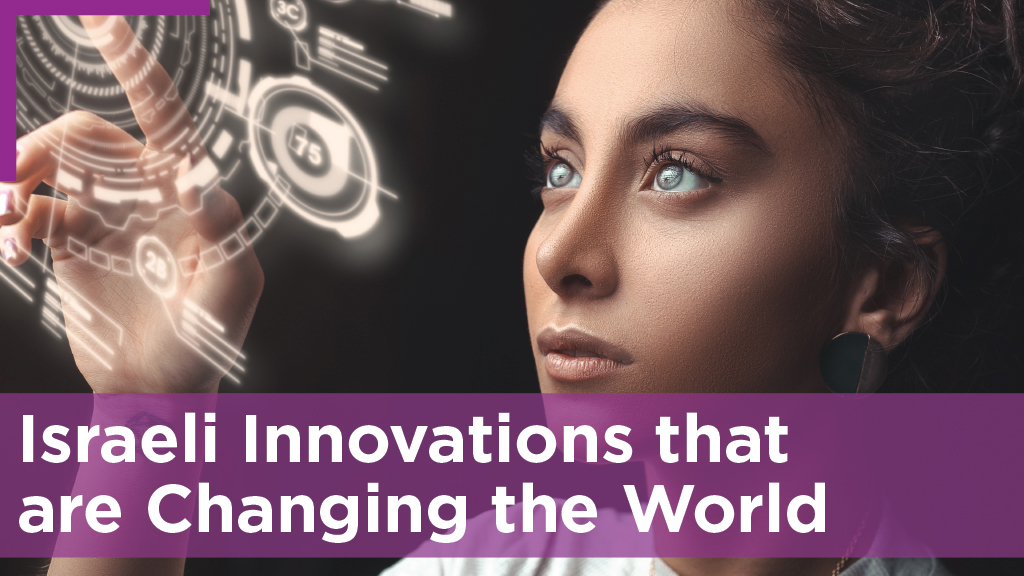 Israel; a tiny country that is only 70 years old, has developed into a tech giant. Many Israeli innovations have literally changed the world beyond all recognition. Referred to as the start-up nation, Israel has more tech start-ups per capita than anywhere else in the world. This is impressive for a country with a population of about 9 million people. Its progress and innovation in such a short period is incredible. Some amazing tech that has come out of start-ups from Israel include Waze, Netafim, Mobileye, WaterGen and the firewall are just of the few of the many.
Waze

Ehud Shabtai  wasn't satisfied with the GPS devices available in israel so he took action. He noticed that GPS devices were not able to accurately provide traffic information in real time. Him, along with two other engineers  created a community project called Free Map Israel. For the first time ever, they used crowdsourcing as a way to upload traffic information in real time.The app was able to upload data from other users and create more efficient routes accordingly. Free map Israel was then turned into the company Waze. The community grew and in 2013, Google bought the company  for $1.1 Billion. The company of about 100 employees earned the biggest buy out in Israel tech leaving each employee with about 1.2 million dollars. Thanks to this Israeli innovation, everyone across the globe is using this GPS app to get them from point A to B in the fastest way possible.
NetaFim
For many years, farmers in Israel struggled to grow crops in the dessert soil. It is said that the greatest inventions come from necessity. Drip irrigation was invented and developed by Netafim in the arid land of the Negev desert in Israel. Since then, they have changed the lives of millions of farmers across the world. Due to the struggles that Israeli farmers faced, it lead them to find a solution that would allow them to grow crops more efficiently and effectively in any climate.
In 1965, engineer Simcha Blass began building the early models for drip irrigation. Blass was able to realize that fewer regulated drips of water was able to make a huge difference in plant growth. Kibbutz Hatzerim then signed an agreement with him to establish Netafim. Netafim was able to improve crop yields by 70% while reducing the water usage by 5%. NetaFim is now the world's leading irrigation company that operates in 150 countries. In 2017, Mexichem SA acquired Netafim from Perima Holding for $1.5 Billion.
Mobileye
Autonomous driving has finally arrived. Cars are more advanced than ever and are now able to sense their surroundings with little human input. Most new cars are equipped with advanced driver-assistance. This is thanks to Amon Shashua who started developing this technology in 1999 in his academic thesis. His research turned into a reality. He developed the algorithm that would allow cameras to detect and alert drivers of hazards such as pedestrians. Since then, the technology has quickly advanced and now Mobile eye technology is now used in over 25 automakers. Mobileye is one of the biggest exits for an Israel company. Intel coorporation bought the company for 15.3 billion dollars.  Due to this Israeli innovation almost every car on the market  is becoming equipped with their technology.
WaterGen
Approximately 2.1 billion people worldwide live without access to safe water and, of that amount, roughly 1.7 million children die annually. Luckily, Watergen has found a solution to decrease this number significantly. Using nothing but a portable generator, WaterGen discovered how to produce clean drinkable water out of thin air.
In 2012, founder Arye Kohavi and his team launched the first generator able to cool and liquidize the air vapour present in the atmosphere anywhere from rain forests to desserts. Using their patented GENius technology, their generators can produce four litres of clean water for every kilowatt-hour of electricity it uses. Their technology is even able to account for air pollution, filtering out any impurities. WaterGen can produce up to 5,000 litres of premium quality drinking water per day per unit. Using 70% less power consumption than any other competitors and proven 100% clean premium quality drinking water, WaterGen is a life-changing product that plans to bring clean drinkable water to millions of people across the globe
5. Firewall

Cyber security has become a major problem as our world has become so technologically inclined. This Israel startup, Check Point Software Technologies, has become a world leader in cyber security. The software we all use to protect our devices from dangerous cyber activity is thanks to Gil Shwed, Marius Nacht, and Shlomo Kramer. In 1993, Check Point was the first to commercialize Firewall, a software technology used to protect against any malicious cyber activity. Since then, they've partnered with major tech companies like Nokia and have set up main offices in North America with approximately 5,000 employees. Cyber security has quickly evolved and advanced, and it all began in Israel.
These are only a few of the many tech start-ups from Israeli entrepreneurs. They are constantly working to improve and find innovative solutions to everyday problems, becoming global leaders in the tech world. Many of our advancements in technology have risen from Israeli entrepreneurs due to their world-leading, innovative solutions. They deserve recognition for their ingenuity and impact that spans the globe.

Email This Post