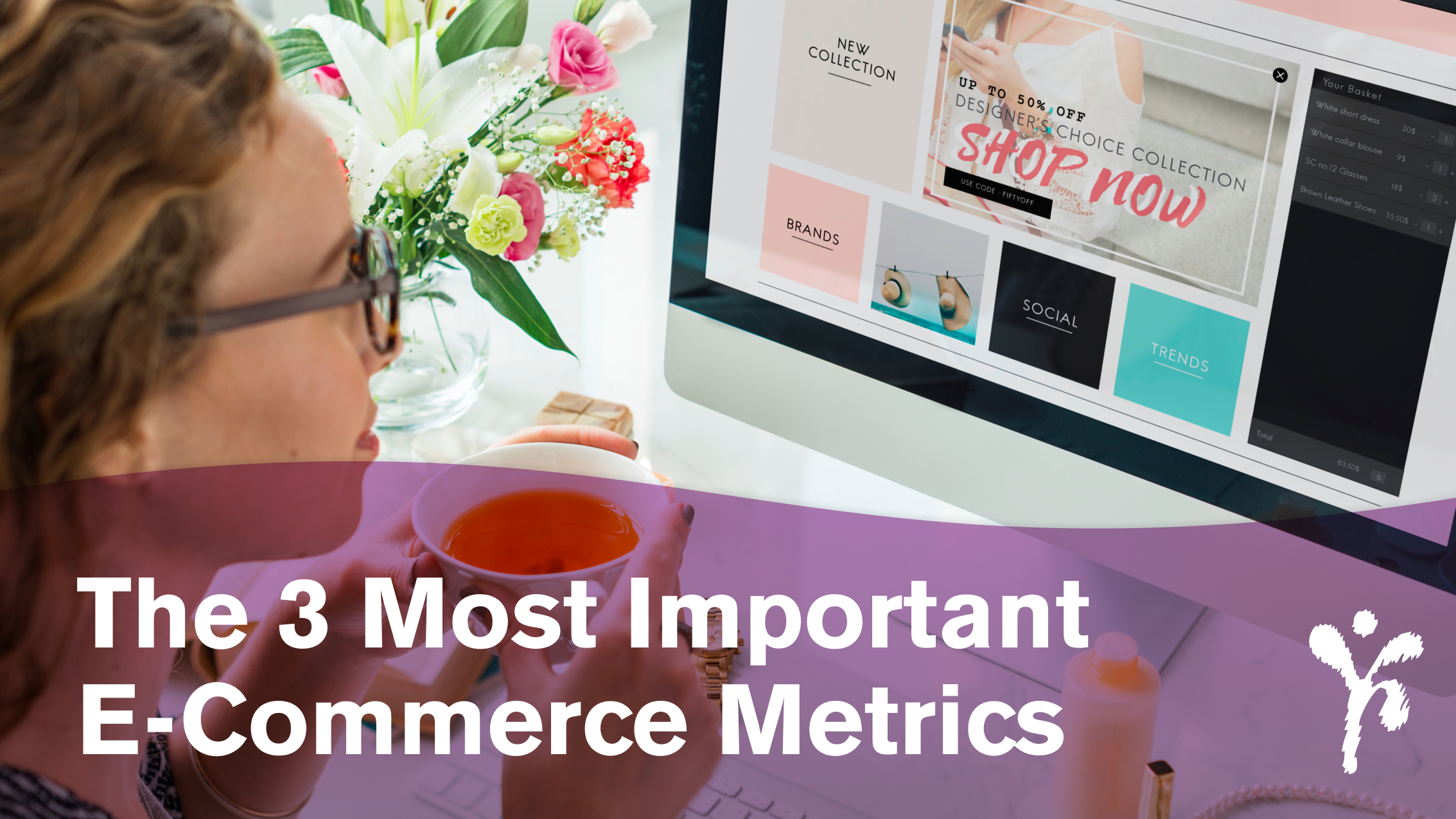 In e-commerce, data is everything. There are so many different metrics to consider it becomes overwhelming. That's why we've narrowed it down to the three most important e-commerce metrics that you need to pay attention to. E-commerce has become very popular over the years, especially with the rise of social media. When you are new to e-commerce, your time is usually spent on binary decisions and tasks that help you get closer to launching your business. For example,  what products you want to sell, who your audience is and how you are going to reach them. You build a website, put the right tools in place and create processes for shipping and fulfillment. However, beyond post-launch date, you will need to step up your game and quickly evolve from business builder to data analyst. Although it may seem like the easier route to take, there are a lot of important metrics to consider and analyze to ensure the success of your business. Here are the three most important metrics that matter.
1. LTV:CAC ratio
The customer lifetime value ( LTV) to customer acquisition cost (CAC) ratio is important in calculating how much you should be spending to acquire a customer. It can help you identify if you are spending too much or not enough on marketing strategies. You can then find solutions to increase profits and revenue. First, we will define both customer lifetime value (LTV) and customer acquisition cost (CAC).
Customer lifetime value (LTV)
Customer lifetime value, or LTV, is one of the most important metrics to track in e-commerce. LTV is the total you earn from a customer over the course of their life. For example, if a customer makes five purchases over there lifetime that was 30$ each then the LTV would be 150$. LTV helps you understand how much profit you earn during the average customer lifespan. Knowing the lifetime value of each customer you acquire can help with forecasting, budgeting and marketing strategy.
Customer acquisition cost (CAC)
Customer acquisition cost ( CAC)  or customer acquiring cost is the amount of money spent on acquiring a customer. This value is calculated by taking the expenses that were used on acquiring customers and divided by the number of new customers that were obtained over that given time period. Knowing your CAC is important because it can help you decide how much money you should be spending to acquire new customers each month.
2. Page speed / load time
This metric is extremely important and can be easily overlooked. Just a one second delay can have detrimental impacts on your business. Pay close attention to page load time on your website. Page load time, or page speed, refers to the average number of seconds it takes for a page on your website to fully load for visitors. A slow website can negatively affect user experience, your ability to build trust and your likelihood to convert new visitors. It can also increase your bounce rate. Your bounce rate is the percentage of visitors who arrive on your page and leave before taking any other action.
According to a Financial Times Case Study, a 1 second delay results in a 7% reduction in your conversion rate. Your conversion rate is the percentage of customers who buy something once they visit your site. It takes as little as one second to slow down traffic on your website not to mention, take a toll on your brand. A customer research report indicated that 66% of people said that website performance influenced their impression of the brand. While 35% of people reported they are less likely to shop there again due to poor website performance. Since you do not have the opportunity to meet your prospective customers in person,  your website is your primary tool for creating the right first impression with people.
Page speed directly affects both conversion and brand but will also affect your search engine optimization (SEO). Google has stated that they use site-loading page as a factor in the algorithm for ranking sites. Therefore, if your site has a slower loading page it will become less visible to customers when they use google search engine.
3. Revenue by channel
When you are spending money on different marketing tactics, it is important to know what is bringing you the highest conversion. Whether it be from social media, email opts or advertisements it's key to understand what is fueling business growth. This way if you are generating higher conversion rates from advertisements on social media as opposed to sending out emails, you will want to focus more of your marketing strategies on advertising on social media.
To build a profitable and sustainable e-commerce business, pay attention to the data. Having a firm understanding of e-commerce analytics will help you become successful. You should be obsessing over these analytics as it reveals the current state of your business. You need to be constantly looking to improve the data. However, do not be overwhelmed by the numerous different metrics that are available focus on these three main metrics especially in the early stages of your business.

Email This Post